Silkie chickens are among the best chickens to buy for pets and the best chickens available for exhibitions. However, finding a silkie chicken to purchase can be challenging. Tractor Supply Co. is a popular place to buy chicks, but do they carry silkies?
Tractor Supply does have silkie and other chicken breeds. In addition, they offer live chicks, brooders, coops, feed, and more, both online and in-store. The availability of Silkies will vary depending on the location, time of the year, etc. You can also get Silkies at local hatchers, breeders, and online classifieds. 
Agricultural retailers like Tractor Supply Co. are good places to buy chickens, but what if your local branch has no stock?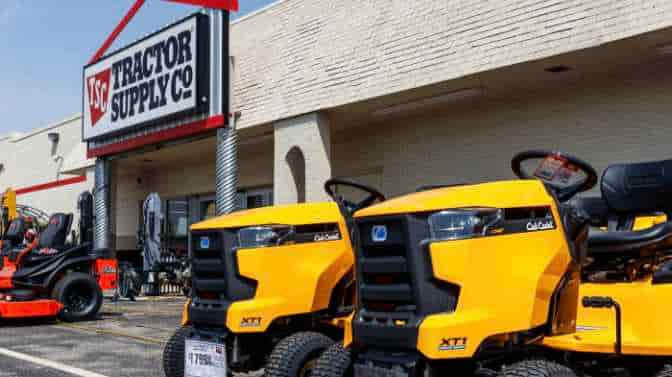 Where do you buy them? What should you look for, and what price should you expect to pay for these birds? Let's find out! But first, let's find out more about the Tractor Supply Company.
Tractor Supply Company Overview
Tractor Supply Company is a one-stop shop for various products, including supplies for your farm or livestock. I've noticed that they offer an array of items such as tools, equipment, pet food, and even clothing.
I always find myself visiting my local Tractor Supply Company for my gardening needs and chicken feed. 
The first time I saw their selection of live animals, I was surprised. However, several of my friends and family have purchased several different breeds of chickens, including silkies. 
Can You Get Silkie Chickens At Tractor Supply?
The good news is that you can get silkie chickens at agricultural retailers such as Tractor Supply. Tractor Supply Co. supplies a wide variety of live poultry, and silkie chickens are among their best sellers for pet birds. 
The following factors can affect whether or not you will find silkies at a Tractor Supply store. 
Chick Day
The company hosts ten week-long events toward the beginning of every year called 'Chick Days.' During these events, the retailer sells an abundance of live poultry and has excellent prices for birds such as silkies. 
During these events, you can find a wide range of poultry husbandry equipment and food at very affordable prices. Tractor Supply is a great place to purchase silkie chickens and a one-stop shop for all your silkie chicken needs to ensure their health and well-being.
The only caveat is that Tractor Supply only sells chicken hatchlings and chicks during Chick Days. 
They will unlikely carry all types of birds outside of Chick Days, so you may have trouble finding silkies at the store. 
Seasonal Factors
Like many other types of chickens, Silkie chickens are more readily available during the spring and early summer. 
This is because these seasons are ideal for breeding and raising young chicks. Therefore, during this time, the demand for Silkies may be higher, but the supply should also be more abundant. 
If you want to purchase Silkie chickens from Tractor Supply, your best bet would be to check their stock during these months.
Store Locations
The stores that carry live chicks will likely sell silkie chickens. On the other hand, if your local store doesn't sell live chicks, they likely won't have silkies. 
It's best to contact your local Tractor Supply Co. or check their website to see if they have silkie chickens in stock. 
Additionally, some Tractor Supply Co. stores may have a larger selection of chicks and poultry supplies than others, so it's worth checking with multiple locations in your area.
Other Places to Buy Silkies
If, for some reason, your Tractor Supply store doesn't carry silkies or live chicks, there are several other places and ways to get them. 
Let's look at some of the best options and locations for acquiring silkie chickens, whether you're interested in getting just a couple of birds or building a whole flock of show-quality silkies.
Hatcheries And Silkie Chicken Breeders
Chicken hatcheries and silkie breeders are the best places to buy these birds. There are several advantages to buying birds from these establishments, and you can usually buy as many birds as you want from them. 
Buying silkies from a hatchery or a silkie breeder ensures that you buy high-quality birds that are healthy and strong. 
You can also buy bords from these establishments at different life stages. For example, you can buy silkies from breeders and hatcheries as chicks, juveniles, and adult birds. 
These establishments can offer documentation of lineage for their birds, as well as provide vaccinations and boosters. Additionally, their birds are typically in better health and condition than those from other sources.
If you are looking to purchase healthy and high-quality silkies. The best option is to seek out a reputable breeder or chicken hatchery. These people specialize in breeding chickens, and they can provide you with silkies in prime condition. You won't get anywhere else. 
Most hatcheries and breeders can even arrange bird shipments if you live close to the facility. 
Agriculture Retailers
Agriculture retailers are another excellent option if you are looking for silkie chickens. Tractor Supply is only one of these options. 
Several other agricultural retailers sell live birds, such as; Brian's Farm & Fleet, Rural King, Murdoch's, Wilco Farm Stores, Big R Stores, etc. 
There are advantages to buying silkies from these retailers, such as proof of purchase, buyers' guarantees, and the ability to buy birds in bulk at lower prices if you want to. 
These retailers also sell all the equipment and housing necessary for keeping these birds, as well as plenty of silkie chicken feed. 
Auctions
Poultry auctions are a great way to buy silkie chickens if you want to buy a few birds at once. These auctions are relatively common among farms that rear poultry and offer birds at different life stages available for different prices. 
Poultry auctions are a great place to find silkie chickens of varying quality. 
Whether you're looking for show-quality silkies with a well-established lineage or want to add some silkies to your flock, you can usually find what you're looking for at these auctions.
Online Classifieds
Online classifieds such as Facebook Marketplace, eBay, and Craigslist are good places to buy silkies. 
Backyard breeders often sell their silkie chickens on online classifieds. 
If a silkie owner ends up with a clutch of silkie chicks they cannot keep, they may sell them through these platforms.
The birds here are usually the best price and affordable, but there is no way to ensure the quality of the birds. 
How Much Do Silkie Chickens Cost?
Before purchasing any chicken, especially silkies, it's essential to know how much they cost. 
Silkie chickens are typically priced around $10 for hatchlings, while chicks and juveniles can range from $20 to $30. 
Adult birds can cost up to $40. However, prime silkies bred for exhibitions and show-worthy cockerels can fetch prices higher than $120.
Final Word
Not all Tractor Supply stores carry silkie chickens or live poultry, but don't be discouraged. There are plenty of other places to buy them, such as; Brian's Farm & Fleet, Rural King, Murdoch's, Wilco Farm Stores, Big R Stores, etc. 
If you have access to an Agricultural retailer in your area. Look online for breeders, hatcheries, poultry, farm auctions, and even online classifieds. 
So do your research to find the perfect silkie. Who knows, you may add some new peeps to your backyard flock!
Related Articles
Sources
https://www.themountaineer.com/life/tractor-supply-hosts-chick-days/article_31aad108-404c-11e9-b1fd-1f623c5bdcd8.html