Every backyard chicken owner knows that chickens make great pets! You also know that chickens can do goofy things. From weird crackling sounds to bobbing their heads up and down while they walk, stalking your every move, etc. That's why we've uncovered some funny chicken names that will match their unique personality.
Coming up with a name for your chicken doesn't have to be complicated. It's no different than naming a dog or cat. You do have to get a little creative, but hopefully this list helps you find the perfect name or come up with other unique names.
Funny Chicken Names
Below you'll find the funny theme inspired chicken names for males and females. These names were inspired from normal everyday things, objects, food, places, and human names.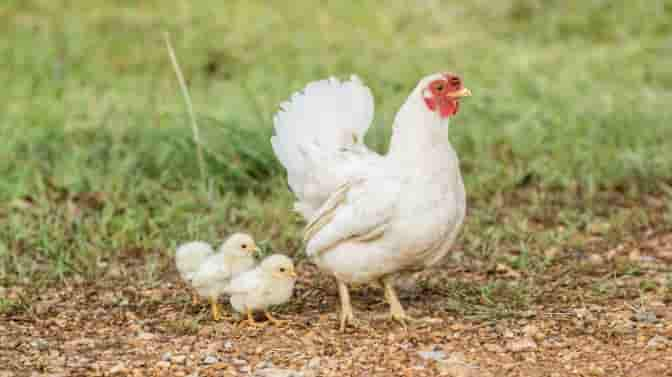 Funny Female Chicken Names
If you have a bunch of hens, you're likely looking for a female specific name. Below are some of the funniest names we could think of for your flock.
Clumsy
Feathers
Girlfriend
Shadow
Goofy
Maple
Potato
Angry Bird
Nibble
Peck
Dinky
Bonita
Yakky
Bluebell
Flossie
Fruitloop
Motley
Unicorn
Rainbow
Kanga
Hootie
Pipsqueak
Angela
Pepper
Sharpie
Jaguar
Vanish
Cloudy
Sierra
Curry
Chestnut
Mother Clucker
Shirley
Margaret
Maude
Lacey
Perkey
Peepster
Olive
Quiche
Fatty
Pebbles
If your hens are older, you may want to consider checking out these old lady chicken names.
Funny Rooster Names
If you have a rooster in the bunch, then here are some names that are specifically for male chickens.
Batman
Big Bird
Armageddon
Billy
Bobo
Gustavo
Hootie
Jose
Arnold
Buster
Yoda
Sparky
Butler
Dollar
Hercules
Boots
Caviar
Cheese
Crunch
Appetite
Angel
Buddy
Doodle
Clumsy
Rumple
Boogie
Boulder
Uncle Quacker
Scutter
Dinky
Paddington
Rascal
Excalibur
Woodstock
Rubix
Mr. Beaks
Martin
Gossip
Plucker
Funny Chicken Names By Color
One of the easiest ways to name a chicken is by the color of its feathers. Below are the color names along with the color of chicken the name will work best for.
| | |
| --- | --- |
| Name | Color Chicken |
| Milkyway | White |
| Batman | Black |
| Licorice | Black |
| Glacier | White |
| Icy | White |
| Big Red | Red |
| Pepperoni | Red or Brown |
| Heinz | Red |
| Pumpkin | Orange |
| Cheeto | Orange |
| Pearl | White |
| Sunny | Yellow |
| Zaffre | Blue |
| Milk and Water | Off White |
| Wheat | Yellow |
| Guinness | Black |
| Blizzard | White |
| Aspen | White |
| Reba | Red |
| Garfield | Orange |
Funny Names for Chickens Inspired from Places & Things
If you love traveling, consider naming your chicken or rooster after a place or thing that makes you laugh. Below are some names inspired from places with funny names and comical things.
| | |
| --- | --- |
| Funny Name | Meaning |
| Queensland | Australia |
| Bear | Bear Delaware |
| Bigscuffle | Bigscuffle, Tennesse |
| Oxo | Oxo Good Grips |
| Cuisine | Kitchen appliance |
| ILoveHandles | Plank floating cell phone shelf |
| Celebration | Celebration, Florida |
| Dinosaur | Dinosaur, Colorado |
This website has a huge list of over 100 cities with funny names you can look for to find more potential ideas.
Funny Human Names for Chickens
Like any other pet, you can consider giving your name a human name. Below are some of our favorite funny human names for boys and girls.
| | |
| --- | --- |
| Boys | Girls |
| Charlie | Susan |
| Max | Tori |
| Walter | Aubrey |
| Barry | Sansa |
| Wyatt | Apple |
| Arlo | Tiamili |
| Banjo | Destry |
| North | Adeline |
| Sunday | Seven |
| Sparrow | India |
| Harley | Starr |
| Ted | Willow |
| Benny | Daisy |
| Jasper | Lily |
| Lark | Flora |
| Clive | Pearl |
| Ozzy | Penny |
| Archie | Valentina |
| Pax | Greta |
| Roscoe | Chloe |
Comical Chicken Names Inspired By Celebrities & Characters
Some pet owners tend to name their pets after celebrities or famous characters from movies, Disney, and etc.
Below are some our favorite bird names that will work great for your pet.
Godzilla
Big Bird
Hook
James Bond – perfect if your bird is sophisticated and full of charm
Joker – the villain in Batman movie
Leonardo – perfect for a blue and green chicken named after Ninja Turtle
Peter Pan
Raptor
Rooster
Sammy Sosa – baseball player
Panchito – Disney's The Three Caballeros
Sheldon – Chick (inside the eggshell) on Garfield
Larry Bird – Basketball player
Heidi Plume
Oprah "Hen" Frey
Meryl Streep
Elvis
Hilarious Chicken Names Inspired from Food
Want to get a real chuckle whenever you call out to your chickens. Consider naming them after any of these foods.
Hot Dog
Fish
Chalupa
Waffles
Kabob
Biscuit
BBQ
Eggo
Chickpea
Oreo
Shrimp
Croissant
Beanie
Pancakes
Taco
Silly Car Names for Chickens
If you're a car fanatic, consider naming both your hens and roosters after some popular cars. While they make great car names, they can be used as silly chicken names.
Audi
Jaguar
Ranger
Harley – motorcycle
Charger – Dodge Charger
Tractor
Chevy
Pun Chicken Names
If you're into silly names, you're likely into jokes. These pun names are perfect for bird pets, and will make you smile everytime you say them.
Kanye Nest
Osprey Winfrey
Chick Jagger
Sandra Gullock
Will Twetton
Bougie
Hootie
Winger
Flock Hudson
Quill Smith
Pat Chick Swayze
Jack Nicholas Hen
Final Word
Coming up with a name for your chicken should be fun. Hopefully, this huge list of funny names has helped you find a name your family can agree on. If not, use it to brainstorm and come up with more ideas.
Once you come up with the perfect name, you can start teaching it to your chickens. Eventually your chickens will learn their name and come running whenever they hear it being called.